Category: Open Banking
Published on March 26
Best-in class, commercially supported Open Banking Identity and Access Management, built on the Gluu Open Core Digital Identity platform.
Open Banking API security for any core banking system, works with existing API Gateways.
As Open Banking becomes the new normal for banks globally, we are delighted to announce availability of our Open Banking Identity Platform, built in collaboration with Gluu on their class-leading open core identity technology.
The Openitio identity platform delivers critical identity technology banks require to deliver Open Banking securely, co-existing with existing API Management platforms including:
FAPI standard API security designed to work with existing API gateways.
Single Sign On (SSO) with existing identity systems.
Consent Management.Support for the latest identity / security standards: OIDC, CIBA, FIDO2, JARM.
Fintech / TPP onboarding using Dynamic Client Registration (DCR).
Multi-jurisdiction guideline, API and rule-book support.
What is Open Core and how does it help my business?
Unlike conventional open source software that does not provide support and availability assurance levels of commercial software products, the Openitio Open Banking Identity platform is commercially licensed and supported, yet built on the best-in-class Gluu open-technology core, which means banks can get commerically backed, SLA based support, with the confidence they will always have the freedom to access and get updates to the underlying core software, hosted at the Linux Foundation as a fallback.
This model represents a major advantage over traditional commercial distributions or SaaS services, which lock's banks into their software, "leasing" banks the right to use the software on an annual basis, and in case business conditions change, leaving them with little flexibility to negotiate, unless they are prepared to rip-out and replace their entire digital identity infrastructure.
The Openitio Open Banking Identity platform is commercially supported and accessible for banks of different sizes at corresponding commercial price-points.
Designed to work with your existing API and Core Banking platforms.
The Openitio Open Banking Identity platform is designed to fit-in and co-exist with your existing API platform, providing identity based security (FAPI / Open ID Connect) to your APIs seamlessly, following Open Banking security principles.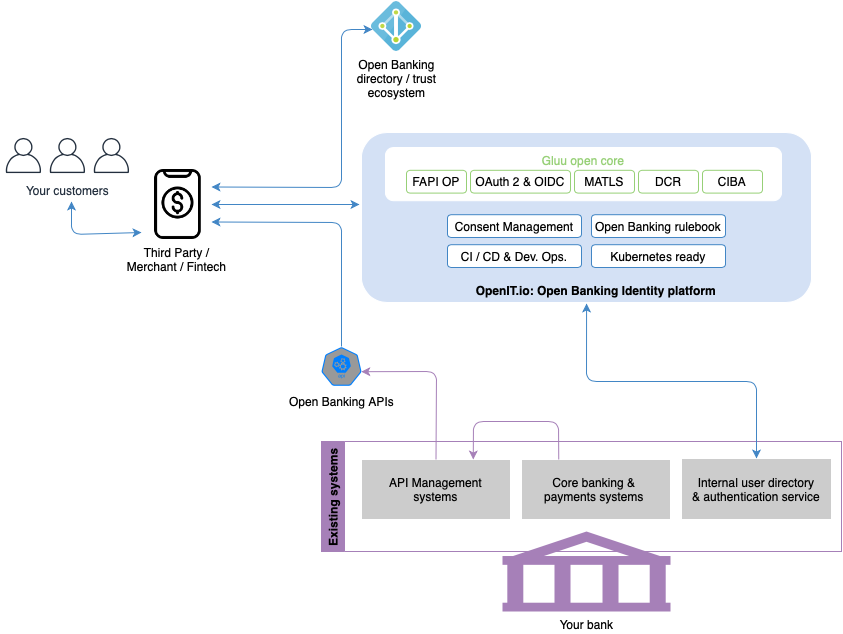 The Openitio Open Banking Identity platform is designed to co-exist with API Management systems, and interoperate with any Core Banking system.
Read the press release here.
Learn more about the Gluu Open core here.
Get in touch with us to discuss how to reduce your spend on Open Banking.